Visit to Edinburgh Gurdwara 2019
9 November 2019.
Fife Interfaith Group's first event of the 2019 Scottish Interfaith Week was a visit to the Gurdwara in Edinburgh.  In fact it happened the day before the start of Interfaith Week but this was because the visit coincided with the 550th Celebration of the birth of Sri Guru Nanak Dev Ji.
On arrival at the Gurdwara a former church situated in Leith, there was a ceremonial washing of the steps attended by a large crowd of Sikhs obviously enjoying it all.   After the ceremony was over and others had entered with bare feet on the wet steps on a cold day, the rest of us entered and were able to take our shoes off inside.  To our surprise the floor was very warm and it appears that there is now underfloor heating so people do not get cold feet, real luxury!  Unusually it was not just the women who had to cover their heads but square scarves were available for men to cover their hair as well demonstrating their well known belief in equality in treatment of gender.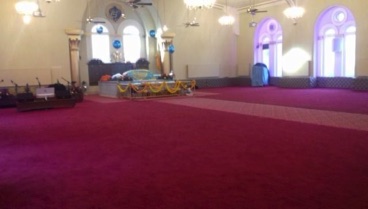 The welcome was warm and friendly and the Langar Hall was full of Sikh families dressed in traditional clothing who were having a great family day out.  Visitors were taken to an adjoining room and there we sat down and soon were given talks about Sikhism and how the Gurdwara is open to all Faiths and anyone who needs help.  Sikhs are renown for their feeding of those in need and after the talks were over we were all treated to a delicious meal including some really tasty sweets.
After this we were free to explore the Gurdwara and made our way upstairs to the Diwan Hall which was a sparsely furnished room with an altar one end on which laid the Sikh's Holy Book containing the teachings of their founder. 
A lady was there reciting verses from the book and evidently on any day of celebration there will be readings all day long from the scriptures.  Although sparsely decorated the floor was covered by a plush red carpet and concealed lighting reflected subtle colours on the wall and the altar adorned very tastefully. There was a lovely quiet spirit in the room and was a stark contrast to all the noise and celebration taking place down stairs.
A really enjoyable visit to help understand the Sikh Community who have such high ideals to help and understand others.